Day 1 :
Keynote Forum
Vision Institute, France
Time : 10:00-10:40

Biography:
Serge Picaud has expertise in Retinal Physiology and Physiopathology. He has characterized retinal cell function at the cellular and molecular levels while developing different cell, tissue and animal models of retinal diseases such as purified photoreceptors and purified RGCs or even human postmortem retinal explants. His team has contributed to the understanding of different mechanisms leading to photoreceptor and RGC death. The present study on taurine deficiency has emerged following fundamental studies on GABA retinal function because the antiepileptic drug, Vigabtrin, is a blocker of the GABA-transaminase. Recently, his interest on Translational Research has moved to the development of devices for restoring vision in blind patients.
Abstract:
Taurine has become a well-known amino acid as a constituent of energy drinks. In the 70s, its deficiency was shown to cause photoreceptor loss in cats on a casein diet. Retinal alterations were also reported in non-human primate babies receiving taurine-free milk. In humans, taurine deficiency was found to induce functional retinal change during parenteral nutrition. Taurine addition is now added to artificial baby milk and parenteral nutrition. However, no taurine deficiency was so far associated to any retinal diseases with photoreceptor degeneration. Working on the retinal toxicity of the anti-epileptic drug, vigabatrin, we found that retinal ganglion cells (RGCs) also degenerate under taurine deficiency. Surprisingly, the retinal toxicity of vigabatrin is associated to a loss of RGCs and their optic fibers sending visual information to the brain. The relation to taurine deficiency was indicated by the decrease in plasma taurine for both vigabatrin-treated animals and patients. Neuroprotection of both photoreceptors and RGCs was obtained by taurine supplementation in vigabatrin-treated animals. These observations suggested that taurine is a major molecule for RGC survival. We have therefore investigated this hypothesis in models of glaucoma, the second cause of blindness worldwide. Purified RGCs survived better in the presence of taurine. One risk factor for triggering glaucoma is an increase in intraocular pressure. We therefore used two rodent glaucoma models with such an increase in intraocular pressure and showed that RGCs were preserved in animals receiving taurine in their water despite no effect on the increase in intraocular pressure. These studies indicate that taurine deficiency could contribute to diseases with RGC degeneration like glaucoma and diabetic retinopathy. This conclusion is further supported by the decrease in blood taurine in diabetic patients. Taurine supplementation may therefore become a potential treatment for diabetes and glaucoma.
Break:
Coffee Break 10:40-10:55 @ Sylt Foyer
Keynote Forum
HelpAge International, United Kingodm
Time : 10:55-11:35

Biography:
Juma Khudonazarov has been working with many health organizations globally and is currently responsible for Health and Nutrition section of Humanitarian Team at HelpAge International, based in London. With great passion in improving the health and wellbeing of people, ample knowledge of both emergency and development projects, he participated in many research projects. He is very interested in health projects related to aging population, mental health and nutrition, HIV, MDR TB and Malaria. He has organized three international conferences including 2016 International Conference on Management of Substance Misuse in Primary Care in Central Asia.
Abstract:
The rapid assessment method for older people (RAM-OP) is a quick, simple, low-cost tool that allows humanitarian and development workers to obtain valuable information on older people specific needs, including their nutritional status, health and well-being, activities of daily living, disability, access to water and sanitation through a house to house survey. The simplicity of methodology will make it valuable and sustainable tool for local people in different parts of the world. This is unique and the only currently tested, available free of charge methodology that focuses on people aged 60 and over. Developed by HelpAge International in collaboration with Valid International and Brixton Health, and with funding from Humanitarian Innovation Fund, the method is so quick because it requires a sample size of just 192 (regardless of the size of the population to survey) and the process can be achieved in just around two weeks, including training and data collection, entry and analysis. Older people (generally defined as people aged 60 years and older) are a vulnerable group for malnutrition, health, water and sanitation in humanitarian and developmental contexts. For instance, due to their age related to oral health they have specific nutritional needs, such as easily digestible and palatable food adapted to those with chewing problems, which is dense in nutrients. Due to the low visibility of older people (limited mobility) they are often neglected and receive only small portion of humanitarian aid. In famine and displacement situations where populations are dependent on food distributions, older people often find the general ration inappropriate to their tastes and needs, and have difficulties accessing the distributions, or have difficulties transporting rations home.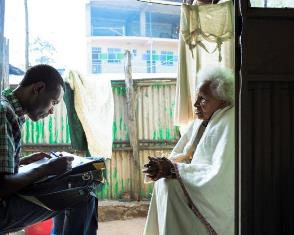 Figure: RAM-OP in Ethiopia
Keynote Forum
CESPU University, Portugal
Time : 11:35-12:15

Biography:
Roni Lara Moya has done his studies in Biomedicine from the University of Mogi das Cruzes, Sao Paulo. He has done his specialization in Anti-Aging Medicine from Seville University, Spain. He completed his Master of Science in Molecular and Cellular Immunology and Biology from the University of Coimbra, Portugal and Master of Science in Clinical Advanced Nutrition from the University of Barcelona, Spain. He did his PhD in Biomedicine and Immunology from the Gulbenkian Institute of Science and Coimbra University. He is the Coordinator of Orthomolecular Medicine of ReGenera Research Group for Aging Intervention. He is the Professor and Director of the Graduation Program in Orthomolecular Therapy-CESPU University, Portugal. He is the Scientific Advisor for Nutraceuticals and Cell Therapy Companies in Europe
Abstract:
The state-of-the-art advances in neuroscience and anti-aging medicine show that the brain can adapt to chronic stress by increasing its neuroplasticity capacity. Neuroplasticity allows the neurons in the brain to compensate for injury and disease and to adjust their activities in response to new situations or to changes in their environment. The aging brain can adapt through cellular defense mechanisms, such as DNA repair, release of neurotrophins (BDNF, IGF-1), and promotion of neurogenesis, and also through the capability of the dendrites and synapses to change in response of the environmental demands, including nutrition. The brain's perfect immunity regulation by the microglia and the central nervous system's anti-oxidant capacity enhancement depends on several concepts, including the best nutritional foods and supplements, hormones, physical activity and learning procedures. The orthomolecular medicine establishes the use of the correct molecules to keep the perfect physiological and biochemical function of the body. The aim of this talk is to reveal the biochemical and immunological mechanisms behind the brain aging and to address the best clinical orthomolecular protocols to prevent the neurodegenerative diseases and stimulate the neuroplasticity with the use of dietary substances, natural immune-modulatory molecules and bio-identical hormones.