Day 1 :
Keynote Forum
Vision Institute, France
Time : 10:00-10:40

Biography:
Serge Picaud has expertise in Retinal Physiology and Physiopathology. He has characterized retinal cell function at the cellular and molecular levels while developing different cell, tissue and animal models of retinal diseases such as purified photoreceptors and purified RGCs or even human postmortem retinal explants. His team has contributed to the understanding of different mechanisms leading to photoreceptor and RGC death. The present study on taurine deficiency has emerged following fundamental studies on GABA retinal function because the antiepileptic drug, Vigabtrin, is a blocker of the GABA-transaminase. Recently, his interest on Translational Research has moved to the development of devices for restoring vision in blind patients.
Abstract:
Taurine has become a well-known amino acid as a constituent of energy drinks. In the 70s, its deficiency was shown to cause photoreceptor loss in cats on a casein diet. Retinal alterations were also reported in non-human primate babies receiving taurine-free milk. In humans, taurine deficiency was found to induce functional retinal change during parenteral nutrition. Taurine addition is now added to artificial baby milk and parenteral nutrition. However, no taurine deficiency was so far associated to any retinal diseases with photoreceptor degeneration. Working on the retinal toxicity of the anti-epileptic drug, vigabatrin, we found that retinal ganglion cells (RGCs) also degenerate under taurine deficiency. Surprisingly, the retinal toxicity of vigabatrin is associated to a loss of RGCs and their optic fibers sending visual information to the brain. The relation to taurine deficiency was indicated by the decrease in plasma taurine for both vigabatrin-treated animals and patients. Neuroprotection of both photoreceptors and RGCs was obtained by taurine supplementation in vigabatrin-treated animals. These observations suggested that taurine is a major molecule for RGC survival. We have therefore investigated this hypothesis in models of glaucoma, the second cause of blindness worldwide. Purified RGCs survived better in the presence of taurine. One risk factor for triggering glaucoma is an increase in intraocular pressure. We therefore used two rodent glaucoma models with such an increase in intraocular pressure and showed that RGCs were preserved in animals receiving taurine in their water despite no effect on the increase in intraocular pressure. These studies indicate that taurine deficiency could contribute to diseases with RGC degeneration like glaucoma and diabetic retinopathy. This conclusion is further supported by the decrease in blood taurine in diabetic patients. Taurine supplementation may therefore become a potential treatment for diabetes and glaucoma.
Break:
Coffee Break 10:40-10:55 @ Sylt Foyer
Keynote Forum
HelpAge International, United Kingodm
Time : 10:55-11:35

Biography:
Juma Khudonazarov has been working with many health organizations globally and is currently responsible for Health and Nutrition section of Humanitarian Team at HelpAge International, based in London. With great passion in improving the health and wellbeing of people, ample knowledge of both emergency and development projects, he participated in many research projects. He is very interested in health projects related to aging population, mental health and nutrition, HIV, MDR TB and Malaria. He has organized three international conferences including 2016 International Conference on Management of Substance Misuse in Primary Care in Central Asia.
Abstract:
The rapid assessment method for older people (RAM-OP) is a quick, simple, low-cost tool that allows humanitarian and development workers to obtain valuable information on older people specific needs, including their nutritional status, health and well-being, activities of daily living, disability, access to water and sanitation through a house to house survey. The simplicity of methodology will make it valuable and sustainable tool for local people in different parts of the world. This is unique and the only currently tested, available free of charge methodology that focuses on people aged 60 and over. Developed by HelpAge International in collaboration with Valid International and Brixton Health, and with funding from Humanitarian Innovation Fund, the method is so quick because it requires a sample size of just 192 (regardless of the size of the population to survey) and the process can be achieved in just around two weeks, including training and data collection, entry and analysis. Older people (generally defined as people aged 60 years and older) are a vulnerable group for malnutrition, health, water and sanitation in humanitarian and developmental contexts. For instance, due to their age related to oral health they have specific nutritional needs, such as easily digestible and palatable food adapted to those with chewing problems, which is dense in nutrients. Due to the low visibility of older people (limited mobility) they are often neglected and receive only small portion of humanitarian aid. In famine and displacement situations where populations are dependent on food distributions, older people often find the general ration inappropriate to their tastes and needs, and have difficulties accessing the distributions, or have difficulties transporting rations home.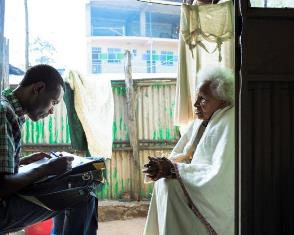 Figure: RAM-OP in Ethiopia
Keynote Forum
CESPU University, Portugal
Time : 11:35-12:15

Biography:
Roni Lara Moya has done his studies in Biomedicine from the University of Mogi das Cruzes, Sao Paulo. He has done his specialization in Anti-Aging Medicine from Seville University, Spain. He completed his Master of Science in Molecular and Cellular Immunology and Biology from the University of Coimbra, Portugal and Master of Science in Clinical Advanced Nutrition from the University of Barcelona, Spain. He did his PhD in Biomedicine and Immunology from the Gulbenkian Institute of Science and Coimbra University. He is the Coordinator of Orthomolecular Medicine of ReGenera Research Group for Aging Intervention. He is the Professor and Director of the Graduation Program in Orthomolecular Therapy-CESPU University, Portugal. He is the Scientific Advisor for Nutraceuticals and Cell Therapy Companies in Europe
Abstract:
The state-of-the-art advances in neuroscience and anti-aging medicine show that the brain can adapt to chronic stress by increasing its neuroplasticity capacity. Neuroplasticity allows the neurons in the brain to compensate for injury and disease and to adjust their activities in response to new situations or to changes in their environment. The aging brain can adapt through cellular defense mechanisms, such as DNA repair, release of neurotrophins (BDNF, IGF-1), and promotion of neurogenesis, and also through the capability of the dendrites and synapses to change in response of the environmental demands, including nutrition. The brain's perfect immunity regulation by the microglia and the central nervous system's anti-oxidant capacity enhancement depends on several concepts, including the best nutritional foods and supplements, hormones, physical activity and learning procedures. The orthomolecular medicine establishes the use of the correct molecules to keep the perfect physiological and biochemical function of the body. The aim of this talk is to reveal the biochemical and immunological mechanisms behind the brain aging and to address the best clinical orthomolecular protocols to prevent the neurodegenerative diseases and stimulate the neuroplasticity with the use of dietary substances, natural immune-modulatory molecules and bio-identical hormones.
Session Introduction
Carol Davila Medicine and Pharmacy University, Romania
Time : 12:15-12:55

Biography:
Diana V Artene is a Nutritionist-Dietitian, with a Master's degree in Nutrition Sciences and PhD in Oncology Nutrition. She is a Certified Member of the International Society of Sports Nutrition and a Reviewer for the American Society for Nutrition. She has written three Nutrition Books: "The Old Chocolate Diet"; "Nutrition Guide for Mums" and "5 Gears Diet". She works as an Oncology Nutritionist at Professor Dr. Al Trestioreanu Institute of Oncology in Bucharest, Romania.
Abstract:
After diagnosis, many breast cancer patients start consuming high quantities of beetroot and carrot juice in the hope that it will sustain their treatment. But these foods are very high in nitrates which can competitively inhibit the use of iodine by the thyroid, potentially leading to hypothyroidism or thyroid nodules. Thus, we applied a nitrate and iodine food frequency questionnaire (asking about dairy, fish, sea food and iodized salt for iodine intake and spinach, carrots, beetroot, lettuce and arugula for nitrates intake) to 353 ER+/PR±/HER2- breast cancer patients during anti-estrogenic treatment. We excluded patients with a thyroid disease diagnosis before the cancer diagnosis, ex-smokers or those with renal disease or bipolar disorders. In this sample of patients, the only correlations between dietary intake of nitrates and the appearance of thyroid nodules were protection factor by minimum intake of dairies 250 ml/day; risk factor by intake over 200 g spinach, 250 g carrots or beetroot 250 g/day. And the correlations between dietary intake of nitrates and hypothyroidism were protection factor by intake of iodized salt 2.5 g, minimum fish 100 g or 250 ml dairy/day; and risk factor by intake over 250 g carrots or beetroot 250 g/day. The results of this study support the hypothesis that an increased intake of foods high in nitrate - in particular beetroot and carrot juice - is a risk factor for the de novo development of hypothyroidism or thyroid nodules after the diagnosis of breast cancer.
Break:
Lunch Break 12:55-13:55 @ Restaurant Rienacker
Nutrition and Health | Nutrition in Cancer and Chronic Illness | Nutritional Deficiencies and Disorders | Nutritional Therapies and Treatments
Location: Sylt 4-5
Chair
Serge Picaud
Vision Institute, France
Co-Chair
Juma Khudonazarov
HelpAge International, United Kingodm
Session Introduction
University of Siena, Italy
Time : 13:55-14:25

Biography:
Consumi M is a Research Scientist at University of Siena in the Department of Biotechnology, Chemistry and Pharmacy. He received his PhD in Biomaterials from University of Trento and has studied polymers and polymer based materials for controlled release of active substances in pharmaceutical and nutraceutical field. As a Post-doctoral Fellow, he focused on understanding the correlation between the chemical composition of materials and their biological activity. He has broad expertise in synthesis, modification and characterization of polymers (naturals and synthetics) and materials for biomedical applications. Actually, he is involved in 2 EU ITN projects in bacterial infection topic to fundamentally better understand the biology, chemistry and physical properties of biofilms.
Abstract:
Monascus fermented red rice (RYR) has been demonstrated to lower cholesterol in blood and sold over-the-counter as an alternative to cholesterol-lowering statin drugs, especially for who stop statin drugs due to their side effects. The goal of this work is to develop an extended-release formulation that able to maintain the activity effect against cholesterol, obtaining a constant release of statins present in RYR throughout the staying of the tablets inside the intestine. This study focus on the analysis of different carriers for controlled release systems composed by polysaccharide-based matrices by two different formulations based on K-carrageenan and gellan gum (ranging from 10% to 90% in weight). Samples as cylindrical tablets have been physico-chemical characterized by FTIR, DSC, TGA, Rheometer and TOF-SIMS, water uptake, water bond, water diffusion and mesoporosity. The Monacolin K release has been monitored until 48 hours in simulated intestinal fluid SIF. HMG-CoA reductase activity has been measured to determine the formulation influence on statin activities against the lovastatin activity used as control. The selected formulation enhances the statins release respect to the RYR matrix alone and, in addition, the preliminary biological results suggest that the activity of these samples is associated with the inhibition of HMG-CoA reductase. It can be concluded that, release tests pointed out that formulations obtained combining polymers in a ratio close to 1 (i.e., 40/60 and 50/50) guaranteed a potentiated release of lovastatin from RYR inducing also a superior hypocholesterolemizing action both in terms of hepatocytes cholesterol production and inhibitory activity towards 3-hydroxy-3-methylglutaryl-coenzyme A reductase (HMG-CoA). The most effective one, in hypocholesterolemizing activity, in terms of inhibitory activity versus HMG-CoA reductase and hepatocytes cholesterol production, was the formulation obtained combining 40% of k-carrageenan and 60% of gellan gum.
Jilin University, China
Time : 14:25-14:55

Biography:
Dong Li has done his PhD in Immunology from University of Glasgow in 2014. His research interest is to identify the key factors in immune regulation which control the development of allergy and inflammatory diseases. Current focus is on the role of cytokines IL-1 family members in the mucosal immune system related diseases as well as how nutrition status influences these key immune regulatory factors.
Abstract:
Statement of the Problem: Vitamin A (VA) deficiency is one of the most common malnutrition conditions. Recent reports showed that VA plays an important role in the immune balance, lack of VA could result in enchanted type 2 immune response characterized by increased type 2 cytokines production and type 2 innate lymphoid cells infiltration and activation. Type 2 immune responses plays protective role in anti-infection, but plays pathological role in asthmatic disease.
Methodology & Theoretical Orientation: In order to investigate the role of VA in the asthmatic disease, we used ovalbumin-induced asthma murine model, and observed the pathological changes between mouse received VA-deficient and -sufficient diets. We also measured the type 2 cytokine expressions to reveal the potential mechanism.
Findings: Our results showed that VA deficiency exacerbates ovalbumin-induced lung inflammation via induction of the type 2 cytokine productions.
Conclusion & Significance: VA deficiency, or malnutrition in further extent, may contribute to the increasing prevalence of asthma.
Lund University, Sweden
Time : 14:55-15:25

Biography:
Nivetha Natarajan Gavriilidou has her expertise in Dentistry and Geriatric Epidemiology and passion in improving the health and wellbeing of elderly adults. Her research efforts in Swedish geriatric nutritional studies open doors for possibilities for interdisciplinary research for example, i.e., oral health among elderly and multi-morbidity. The current study shows that there is an age-related misclassification of undernutrition and obesity attributed to inaccurate height estimation among the elderly. This could affect the management of patients at true risk. We therefore propose using KH- and demi-span-based formulae to address this issue.
Abstract:
The degree of misclassification of obesity and undernutrition among elders owing to inaccurate height measurements is investigated using height predicted by knee height (KH) and demi-span equations. Cross-sectional investigation was done among a random heterogeneous sample from five municipalities in Southern Sweden from a general population study 'Good Aging in Skåne' (GÅS). The sample comprised two groups: Group 1 (KH) including 2839 GÅS baseline participants aged 60-93 years with a valid KH measurement; and Group 2 (demi-span) including 2871 GÅS follow-up examination participants (1573 baseline; 1298 new), aged 60-99 years, with a valid demi-span measurement. Participation rate was 80%. Height, weight, KH and demi-span were measured. KH and demi-span equations were formulated using linear regression analysis among participants aged 60-64 years as reference. Body mass index (BMI) was calculated in kg/m2. The results obtained were: undernutrition prevalences in men and women were 3.9 and 8.6% by KH, compared with 2.4 and 5.4% by standard BMI, and more pronounced for all women aged 85+ years (21% vs. 11.3%). The corresponding value in women aged 85+ years by demi-span was 16.5% vs. 10% by standard BMI. Obesity prevalences in men and women were 17.5 and 14.6% by KH, compared with 19.0 and 20.03% by standard BMI. Values among women aged 85+ years were 3.7% vs. 10.4% by KH and 6.5% vs. 12.7% by demi-span compared with the standard. In conclusion, there is an age-related misclassification of undernutrition and obesity attributed to inaccurate height estimation among the elderly. This could affect the management of patients at true risk. We therefore propose using KH- and demispan-based formulae to address this issue.
Harokopio University, Greece
Time : 15:25-15:55

Biography:
E Fragopoulou is an Assistant Professor of Biological Chemistry of Natural Products. She has a Bachelor's degree in Chemistry, and MSc and Doctorate in Biochemistry. She has a great experience in the isolation and structural characterization of micro-constituents extracted from foods of the Mediterranean Diet, in the study of anti-inflammatory, anti-oxidative and anti-thrombotic effects of micro-constituents in cell free and cell culture systems. Activities in terms of international recognition are the invitation for two review articles "Food ingredients and lipid mediators" and "Lipid minor constituents in wines: A biochemical approach in the French paradox". In addition she has experience in the designing and the implementation of clinical trials. She has been involved in 12 research projects with national and international collaborations and funding, of which in 2 she was the Research Supervisor. She has 60 research and review articles published in peer-reviewed journals.
Abstract:
French paradox is the observation that the French suffer a relatively low incidence of coronary heart disease, despite having a diet relatively rich in saturated fats. Several theories have been proposed in order to explain this phenomenon and several debates arose. One of them attributed this phenomenon to the regular and moderate consumption of wine in France. In this concept, many epidemiological studies confirm an inverse relationship between light to moderate wine consumption and cardiovascular events. Atherosclerosis, the underlying mechanism of cardiovascular diseases is a multifactorial process including several cellular and molecular alterations. Inflammation, thrombosis and oxidative stress are thought to play a crucial role in the onset and perpetuation of atherosclerosis. Under this perspective, clinical trials have been implemented in order to investigate the effect of acute or chronic wine consumption on biochemical markers associated with cardiovascular diseases. Among other pro-inflammatory and thrombotic mediators platelet-activating factor (PAF, 1-O-alkyl-2-acetyl-sn-glycero-3-phosphocholine) and oxidized-phospholipids have been proposed to play a crucial role in the initiation and prolongation of the atherosclerotic lesion. Therefore food compounds that inhibit PAF actions, namely PAF inhibitors, may have a dual role both in hemostatic system and inflammatory cascade. Our research team examined in vitro the effect of several red and white wines on PAF-induced platelet aggregation. The most potent ones were the red wine with main variety Cabernet Sauvignon and the white wine with main variety Rompola demonstrating that the variable of grape is important for the biological activity and not the color. In addition the consumption of these wines improved postprandial platelet sensitivity against PAF, independently of alcohol, in healthy volunteers. In conclusion, the moderate consumption of wine could have beneficial effect on human health due to the existence of wine micro-constituents. Since PAF is a potent mediator of inflammation and thrombosis, with a crucial role in the initiation and prolongation of the atherosclerotic lesion, the existence of PAF inhibitors in wine could partly explain the cardio-protective effect of moderate wine consumption.
Break:
Coffee Break 15:55-16:10 @ Sylt Foyer
Jilin University, China
Time : 16:10-16:40
Biography:
Dr. Weiwei Cui, Department of Nutrition and Food Hygiene, School of Public Health, Jilin University China
Abstract:
Background: With the increasing consumption of alcohol, the Alcoholic Liver Disease (ALD) caused by alcohol abuse has become a serious public health problem that seriously endangers human health. Gallic Acid (GA) is well known for its antioxidant and hepatoprotective activity. Its phospholipid complex (GA-P) is more bioavailable as compared to GA owing to increase the lipophilicity. GA-P could enhance the capacity to cross the lipid rich membranes of the small intestine enterocytes and finally overcoming the disadvantage of poor absorption. In this study, GA-P was prepared and the hepatoprotective effect of it was investigated on chronic alcoholic liver injury model in mice.
Methods: Sixty healthy male C57BL/6J mice were purchased from Changsheng Experimental Animal Company (Liaoning, China). After a period of two weeks, the animals were divided into 6 groups of 10 mice each. Mice in Group I served as the normal control and were given physiological saline only; Animals in Groups II –VI were given orally alcohol infusions for 4 weeks to induce liver damage. Group II served as the bifendate control, and the animals were orally administered bifendate. Group III served as the alcohol-induced liver injury model and treated with alcohol only. In addition to alcohol, mice in groups IV were also intragastric administrated GAP daily. At the end of the 4th week, blood was taken from heart and samples were collected into EP tube.
Results: (1) The repeated oral administration caused total mortality in 50/60 mice, among which 2/10 mice in Group I, 1/10 mice in Group II, 3/10 mice in Group III, and 2/10 mice in Group IV respectively; (2) The mice body weight decreased in almost all the alcohol treated animals compared with Group I; (3) A remarkable promotion of the content of the four substances (the level of TG, GHO, ALT and AST in serum) was observed in the alcohol-induced liver injury model group when compared with the normal control. Conversely, animals treated with bifendate had a significant reduction of their compounds comparied with those in the hepatic injury model group. Groups treated with GAP also showed a decrease in the amount of these four substances; (4) Compared with normal control, mice in Group III which had hepatic injury induced by alcohol caused significant decrease in liver Superoxide dismutase (SOD) and a significant increase in liver malondialdehyde (MDA) content.
Conclusions: These findings suggest that GA-P is an efficacious treatment for alcohol-induced liver damage in mice. Based on our data, GA-P should be regarded as a new and promising drug that may be useful for the prevention of liver injury and even liver fibrosis.
University of Porto, Portugal
Time : 16:40-17:10
Biography:
Inês Ribeiro is currently attending last year of her Integrated Master's in Pharmaceutical Sciences at the Faculty of Pharmacy in Porto University (FFUP), Portugal. She has particular interest in the area of Healthy Ageing and has worked on Therapeutic Compliance and Education for Health among elders living in Porto. Currently, she is working on the topics of Nutrition and Eating Patterns in Europe, at the Department of Biological Sciences in FFUP.
Abstract:
The number of older adults worldwide is expected to triple, by 2100. There is evidence that dairy products intake is associated with a reduced risk of obesity and cardiovascular diseases, playing also an important role on calcium content and bone metabolism. However, dairy consumption has declined sharply in recent decades, particularly in developed countries. Better knowledge of health and nutritional status, as well as of appropriate nutritional behavior, might help oppose this trend. The aim of this study is to evaluate the dairy intake pattern among older adults across Europe. We conducted a cross-sectional analysis using data from wave 4 of SHARE (Survey of Health, Aging and Retirement in Europe) database. Prevalence rates of the number of weekly servings of dairy in individuals who are 50 years old and above were calculated for 16 European countries. From 56,223 registered individuals, 56.0% (n=31,460) were women. Overall prevalence rates of daily intake of dairies in Europe were 66.95 % (IC95%: 66.28-67.63%). Its prevalence in men was 63.35% (IC95%: 62.37-64.35%), and in women was 70.72% (IC95%: 69.79-71.66%). Among men, the highest prevalence was found in Denmark (85.50% [IC95%: 80.73-92.25%]) and the lowest in Poland (31.20% [IC95%: 27.37-35.51%]). Among women, the highest prevalence was found in Spain (89.40% [IC95%:85.90-94.57%) and the lowest in Poland (32.20% [IC95%:28.82-36.14%]). The prevalence of intake of dairy products less than once a week was higher in Hungary for men (11.50% [IC95%: 9.83-13.61%]) and in Slovenia for women (8.90% [IC95%: 7.52-10.61%]). An association between higher age and lower dairy products intake was also found. The pattern of dairy product intake is very heterogeneous in European countries, differing with gender and age within a country; men and older individuals showed a lower intake.